They roll in to give what matters most
When you're away from home – and you can't go home – a team of mother figures shows up at the door to give you some love. And you realize then, no matter what mistakes you made, someone is out there rooting for you.
Meet the Swansboro United Methodist Women.
From 45 minutes south, they drive caravan-style up Highway 17 to deliver comfort and encouragement to the boys at our Craven transitional living home: prize bags for field day, gift cards for Christmas, holiday comfort food, birthday cards, valentines, Easter lunch, pizza, wooly hats, homemade cookies.
And they want you to know something: They receive as much as they give.
"It's not a matter of just giving," says Marilyn Boyce. "Because when people give, it puts them in a superior position and, while we're older than these children, this is a matter of reciprocation. They give to us in ways they probably don't really know."
.  .  .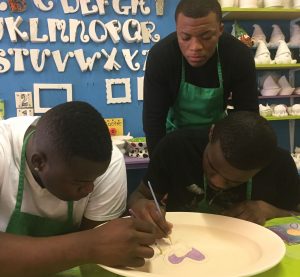 A couple of years ago, the Craven boys painted a serving platter with hearts and confetti colors; they glazed and fired it, and they gave it to the Swansboro women. That platter comes out at every single circle meeting – second Wednesday of the month – as a reminder of their friendship.
"We see so much hope in these boys," says Gay Licko. "We get to share a little in the plans for their future. We are allowed to be part of it, and we feel welcomed."
TOP: It's a surprise shower for program manager Tiffany Powell, left, and the Swansboro United Methodist Women come with baby gear and their cookie platter – a hand-painted gift to them from boys who lived in the home. Representing the Midgett / Tolson Circle are Gay Licko, Patti Heller, Sally Barnes, Denise Shepard, Janet Morgan, Carol McLean, Nanette Jones, Marilyn Boyce, and Cindy Rogers.